Diving centre staff
Some leaders profiles
Your visit in our Diving center will make more pleasure to you because our staff. The leaders are the base founders Robert Korim from Slovakia and József Zelenák from Hungary. For Your comfort will take care other divers, which are upgrading they diving education in Prišćapac and passing the practical portion of they leadership diving courses.



Robert Korim
Robert is an certified diver since 1977. Master degree in physical education at University of Comenius in Bratislava. He achieved the titul Doctor of Pedagogic - PaedDr.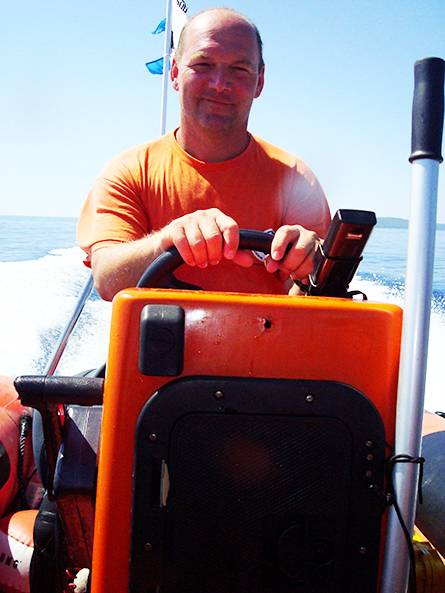 In 80-ties he was multiply champion of former Czechoslovakia and holder of a few national records in finswimming and distance swimming. As a member of the national team he took a part on many world championships in underwater orienteering.
As an officer of former Czechoslovak armee he leaded a special scuba diving force unit. He tested new equipment and trained diving instructors.
He holds an instructor certificate of folowing diving agencies:
- PADI Master Scuba Diver Trainer
- NAUI Technical Rescue Instructor
- ILS Rescue Diver Instructor
- SDI Scuba Instructor Trainer
- TDI Trimix Instructor Trainer
Robert wrote the first scuba diving manual in slovak language. As an author of many instructions books, tables, videotapes is one of the major personalities the modern slovak scuba diving schol. The highiest rank he achieved in SDI with the Instructor trainer status.
He is involved in Technical Diving since 1997, when he passed the exams for EANx Instructor. In the year 2000 he achieved as one of the first instructors in Central Europe the Trimix Instructor qualification.

Robert logged in his logbook more then 7.500 dives and issued to his students more then 5.000 diferent diving licences.
In the 90-ties rhe was the founder of Pro-Dive company in Bratislava, which was over decades the main force of slovak diving bussines.
He was member, initiator or headmen of many diving projects and expeditions. He fonunded many clubs and associations: Associations of slovak Scuba Diving Schools, Slovakian Technical Diving Section and other.
At present he is the school director of "Aronnax Slovakia" and chief editor of webportal Scuba.sk. He is contributing, giving lessons and with all his personality advertising scuba as living style a quality freetime activity.