To Prišćapac
From the direction of Vela Luka (ferry from Split)
After landing in the port of Vela Luka drive directly, way no. 118 towards Blato. After crossing a small town Blato turn right onto the tortuous but very "panoramic" road leading to the southern coast near the village Grščica, which is conected to Prižba. At the end after driving about 3 km long Prižba you will find our complex Priščapac Apartment Hotel **. Distance from the ferry in Vela Luka to hotel is 20 km.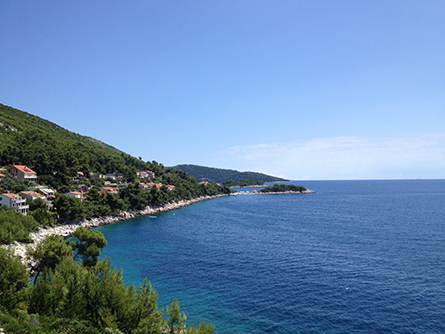 From the direction Dominče (ferry from Drvenik and Orebič)
Ak zvolíš cestu dvoma trajektami z Ploče cez Trpanj a Orebič (Pelješac) priplávaš plavidlom do prístavu Dominče (Korčula). Vydaj sa smerom po hlavnej ceste, označenou číslom 118 smerom na Pupnat a Čaru. Pokračuj cez osadu Smokvica, kde popri kostole odboč doľava smerom na prístavné mestečko Brna. Po 3 kilometroch sa ti zjaví náš apartmánový komplex s charakteristickým polostrovom Priščapac. Od trajektného prístavu v Dominče je to asi 30 km.
If you take the road by two ferries from Ploče through Trpanj and Orebič (Pelješac) the vessel will arrive into port Dominče (Korčula). Drive towards the main road, number 118 towards Pupnat a Čara. Go through the village Smokvica, pass the church and turn left towards the port town of Brna. After 3 kilometers you will find our apartment complex near peninsula Prišćapac. From the ferry port in Dominče it is about 30 km.