OWD - basic level diving course

The basic diving course "Open Water Diver" is the first real qualification in scuba diving. It is intended to those candidates who are seriously interested in this beautiful activity. Successful individuals will receive an internationally valid diving certificate SDI or CMAS, which entitles them to dive all over the world and open them the doors of diving centres.
About the course
This will allow them to borrow abroad scuba equipment an fill they own tanks at filling stations. Along with others certified divers they can then participate in the more demanding dives intended only for certified divers.
The course thoroughly prepare the future divers for everything they need in ordinary forms of recreational diving. In theoretical and practical lessons, will the students learn how to use different equipment, learn basic diving skills and become familiar with the rules of safe diving.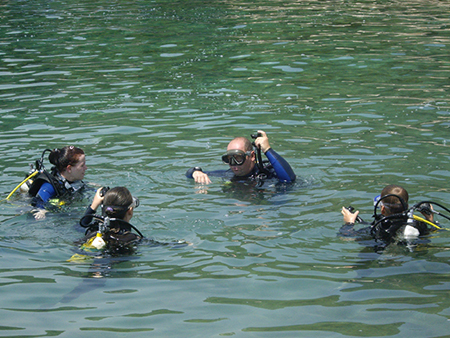 From the chapters of physics, the trainees will learn about the effect of pressure and forces the man has to deal in diving, optics and acoustics underwater. The practical training was first implemented in confined water of the bay and after acquiring the necessary skills in open water. In addition to mastering basic diving skills and practicing self rescue techniques it focus on solving of basic emergency situations.
Student prerequisites
> minimum age 15 years (10-17 with parental consent)
> for Junior OWD is the minimum age 10 years (with parental consent)
> swimming ability
> Declaration of Health, Medical history form
Course structure and duration
Course consists from 8 training blocks, which together account for approximately 36 hours of instruction. Each block consists of:
> Theoretical lessons (reading, presentation, facilitated discussion .....)
> Workshops (demos, separate installation, projection ....)
> Dive Preparation (selection and installation of equipment, technology and equipment, plan the dive ......)
> Open water dive
> Debriefing (evaluation, Logging .......)

Price 550 Eur included:
> Tank filling
> Training and school fees
> Examination fees
> Registration in SDI or CMAS
> C-card
> Book or eLearning code
> Dive Log
> Diving tables